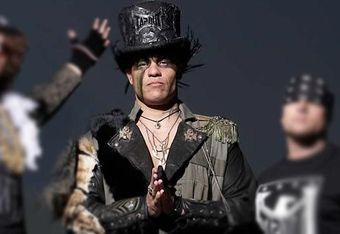 The manslaughter trial for Jeffrey David Kirby came to its conclusion on Wednesday December 8. The jury found Kirby, 53, guilty of one felony count of vehicular manslaughter by unlawful act with gross negligence while intoxicated. Kirby was the driver of the car that struck Charles "Mask" Lewis' car, resulting in Lewis' death on March 11, 2009.
Kirby faces a maximum sentence of 13 years on the manslaughter charge. He will be sentenced on February 4, 2011 at the Central Justice Center in Santa Anna, California.
A press release from the Orange County District Attorney's Office detailed the accident.
"At approximately 1:00 a.m. on March 11, 2009, Kirby was speeding in his 1977 Porsche with a 32-year-old female passenger, Lynn Marie Nabozny, alongside a 2004 Ferrari driven by 45-year-old Charles David Lewis, Jr., on Jamboree Road in Newport Beach. Kirby lost control of his car due to his unsafe speed and crashed into Lewis' vehicle. Lewis lost control of his Ferrari, which crashed into a cement light pole and was torn in half. Kirby swerved and came to a stop on Jamboree Road for several seconds before accelerating and leaving the scene."
"A Newport Beach Police officer, who had been passing northbound on Jamboree, observed the crash and immediately stopped to assist Lewis and called for back up. Lewis was trapped inside the front half of the Ferrari, which had to be dismantled in order to remove him. He was pronounced dead at the scene."
"After leaving the scene, Kirby parked his Porsche, which had body damage consistent with having been involved in a crash, on Bison Avenue. Within minutes of the crash, a responding Newport Beach Police officer observed Kirby's parked car and saw the defendant and Nabozny walking outside of the defendant's vehicle. Kirby and Nabozny were both apprehended. When contacted by officers, the defendant was emitting an odor of alcohol, slurring his speech, and had bloodshot and watery eyes. He was arrested at the scene."
"At approximately 3:00 a.m., two hours after the crash, Kirby had a blood alcohol level of .13 percent."
The conviction marks the second time that Kirby has been found guilty of an alcohol related offence.
Lewis was the founder of the popular TapouT clothing line. He founded the company with a friend in 1997, the pair later brought a third friend into the business.
In 1999 the company grossed under $30,000, selling T-shirts out of the back of their car. Through good fortune and hard work they grew the company and grossed nearly $200 million in 2009.
The company was sold to in September of this year to Authentic Brands Group LLC.